AUDIO MIXING & EDITING
• Online Stereo & 5.1 Surround Sound Mixing | Audio Clean Up | Editing | Vocal Tuning •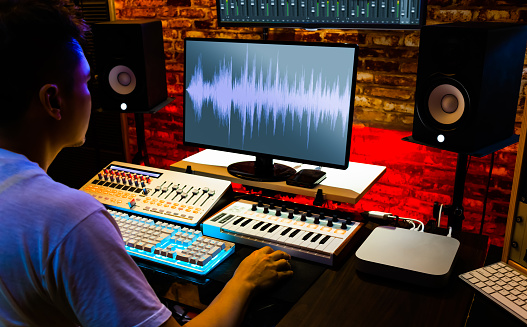 Premium Digital Audio Mixing & Editing
Now's your opportunity to let an experienced audio professional mix, edit, and enhance the current state of your audio tracks. Thanks to the unique combination of cutting-edge technology, the most powerful mixing and editing audio programs, and my technical and creative background – you'll be in good hands. Not only do I take tremendous pride in providing premium quality digital audio mixing and editing for artists and creatives, but I'll also deliver perfectly polished audio tracks that'll meet or exceed your highest expectations.
Fast, Affordable & Done by an Audio Pro
Unlike many companies who offer overly expensive audio mixing and editing services with longer wait times, I do things differently. My services are affordable, typically come with a quick turnaround, and I'll never take shortcuts on quality. When you hire me for all your audio mixing and editing needs, you'll always get professional results that won't waste your time, money, or energy. My #1 goal is to deliver the highest level audio quality and the absolute best mixes possible on every project that I work on.
Choose From a Wide Variety of Services
I offer audio editing and mixing services for several audio/visual projects. These projects range from audiobooks, video shorts, podcast episodes, feature films, short films, TV shows, PSAs, commercials, documentaries, music videos, explainer videos, voiceovers, foley and more.
Below is a quick breakdown of the audio mixing and editing services available to you:

Audio Mixing in Stereo (5.1 or 7.1)

Complete Audio Editing

Noise-Reduction + Clean Up

ADR + Dialogue Alignment

Automatic & Manual Tuning

Sound Enhancement

Breath Removal

Transient Noise Removal

M&E, Instrumental & Show Mixes
Looking to get started on a new project or don't see an
Audio Mixing & Editing service you need listed above?
Feel free to fill out the quick form below and I'll be happy to get back with you